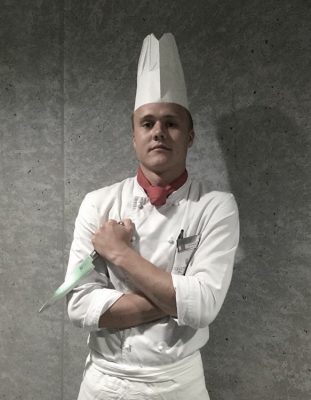 Inspireras av Culinary Arts Academy studenten Fridtjofs approach som gav honom en praktikplats hos den världsberömda kocken Chef Mosimann i London. Såhär gick han tillväga:
It all started one day when our school went to the International recruitment Forum (IRF) in Montreux. IRF is basically a recruitment event where employers from the hospitality industry get the opportunity to meet with SEG students as myself.
I was curious and wanted to talk to all companies. I passed Mosimann's stand, stopped and looked at one of their flyers. I could see by looking at the pictures that this was high standard fine dining. I got interested right away. While I was reading the flyer next to the stand a lot of people came by, delivering their CV asking Mosimann's questions like " how long is the internship, do I get accommodation and so on. I could see that this was not the kind of conversation they were looking for. This was all about attitude and willingness.
Then it was my turn. I did it very simple. I said "Hey, your dishes and the place looks fantastic and I'm already interested. I have worked in restaurants before, I'm efficient and if you give me a task I complete it on time. You would want me in your kitchen and I really want the contact information of your Chef please. I have to say I sounded like a bragger. This is business though and I wanted to sell my self.
After a couple of days I received a mail from the Head chef who seemed to like my resume. We we're emailing and I went thru a phone interview. In early February I went thru and tryout in their private dining club located in London. I love it. It was so inspiring to see such a little kitchen producing such big orders of good looking identical dishes every day. In the end of the weekend I was lucky enough to get the job and I'm really happy about it!
How to get your dream internship
Always admit who you are and don't believe anything else.
There will always be people who try to pull you down. Find out what YOU are good at and focus on that.
Be humble yet assertive!